Record Account Credit Refund (customer view)
If a customer has credit on their account which you refund back to them, e.g. by a bank transfer or giving them cash, you need to record this in Kids Club HQ to reduce the credit available. This short guide will talk you through how to do that.
First step, you'll need to locate the customer in the system. Head to your dashboard and select the Customers tab along the right hand side. Search for the customer who you need to record the account credit refund for and select View. 


You'll then be taken to view the customers account. If the customer has any account credit, you'll see it confirmed along the top right hand side (like the below screenshot).

If you need to record some/all of this credit as refunded, select the Actions drop down button on the right hand side (shown in above screenshot).
You then need to select - Record Account Credit Refund. Selecting this will bring up a pop-up.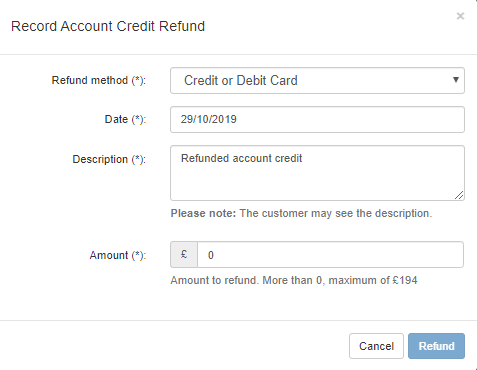 First you are prompted to confirm the refund method you used to refund account credit. The date field is auto-filled but you can edit this if needed, along with the description.

The final box to confirm is the amount. Here you'll need to confirm the amount of credit you want refunding. Once you've filled out all the information/checked it, you can select the blue Refund button. The pop up will then close and you'll be able to see the refund details with the customers account history.