Cut the admin, stop the stress
See how your club could run smoothly with Kids Club HQ.

Cut the time spent on admin
Ever felt like you spend more time doing the admin than actually running your club? Get that time back and spend it on the club

Invoice parents like a pro
Invoicing can be tricky to get right. With Kids Club HQ contracts, the bills go automatically for the dates your parents need

Get paid on time
Always waiting for payment from some parents? Automated reminders for late payers and Credit Control help ensure that you get paid on time

Never miss important information
All the information about the children is just a click away. Alerts and indicators on registers show which children need special attention
Automated invoicing
Automated invoicing means you don't have to manually prepare and send invoices to parents.
Parents can have contracts for the regular days of the week their children attend
You choose a schedule for when invoices are sent; in advance/in arrears, per week, per month, per half-term, it's up to you
Invoices are sent automatically without lifting a finger
Parents can donwload a PDF invoice of their bills for benefits agencies or any other other reason they may need it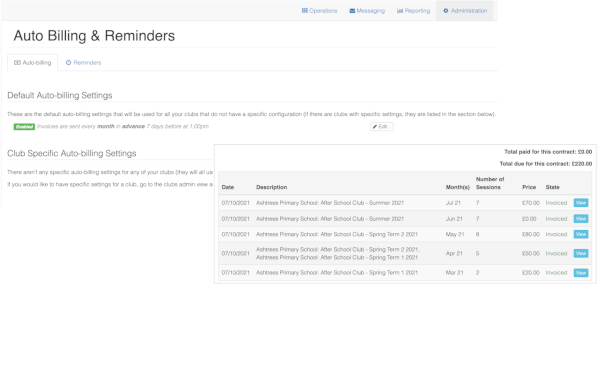 ---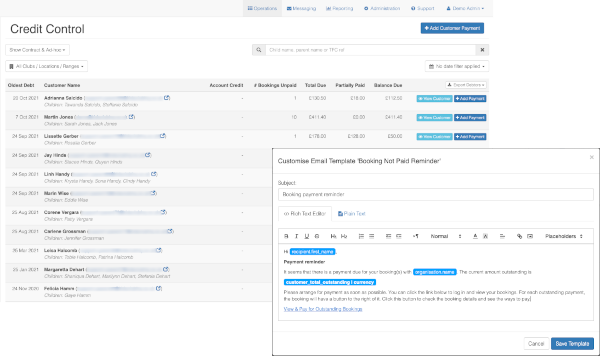 Overdue payment reminders
Keeping track of who's not paid is simple with the Credit Control view. Automated payment reminders mean less chasing.
Automated reminders sent to parents with outstanding amounts due
Schedule the reminders as required
Customise the reminder email content
See who owes what in the Credit Control view
---
Ad-hoc bookings
So long as you have spaces available, parents can log in and book the sessions they need.
Parents can book ad-hoc sessions at any time
Limit the number of spaces that can be booked
Set when bookings close
Enable/disable ad-hoc bookings for clubs as required
Parents can donwload PDF invoices for benefits agencies or any other other reason they may need it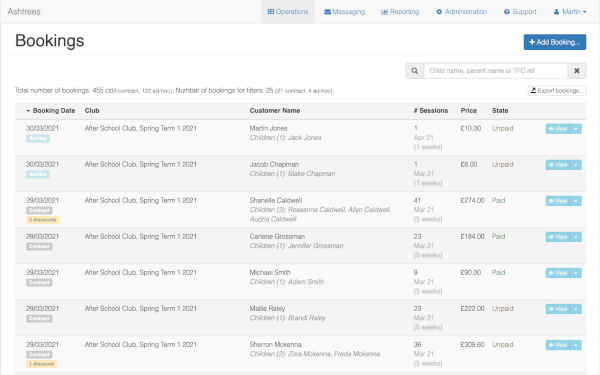 ---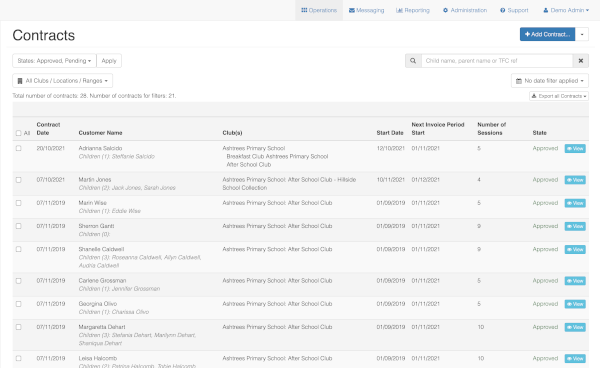 Contracts (regular bookings)
Parents can reserve the days of week they need for their children (approved by you) and get billed automatically from Kids Club HQ.
Parents reserve days of the week for their children
Automatically invoice parents for their regular days
Automatically take payment if you choose to support Direct Debit payments
---
Registers
Keeping track of who's coming to the club, and when, is vital for safeguarding but not always easy when done manually. Especially when you get lots of changes and last minute bookings. It's a breeze with Kids Club HQ.
Continually up-to-date registers
Includes sign in/out, medical information, dietary requirements and consents
Indicators for children with medical information, dietary requirements, etc…
Electronic signature on tablets
Export to Excel for an offline copy of the information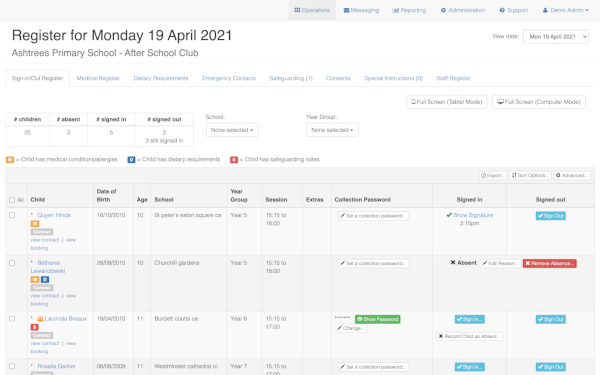 ---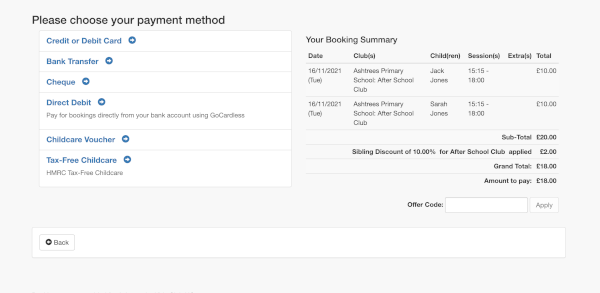 Payments
Getting paid is vital but not always as easy as it sounds with all the different schemes like Childcare Vouchers, Tax Free Childcare, etc… We've got that covered for you.
Choose what to accept from multiple payment options including: Card payment, Direct Debit, Childcare vouchers, Tax Free Childcare, Childcare Grant Payment Service, and many more…
Add your own custom payment options
Use specific payment options for locations or clubs where required
No transaction fee over the top of the card provider you choose to use for card payments
---
Income reports
Get an up to date view on where your income's coming from. Which months are your best months? Find out in the income report.
View income per year, month, week or day
Report on income from sessions, extras and charges
Filter by location, club, date and more…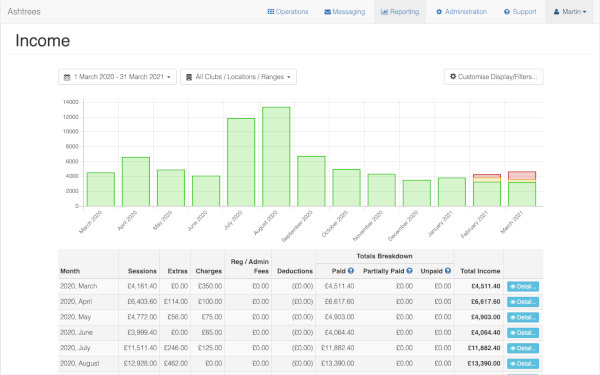 ---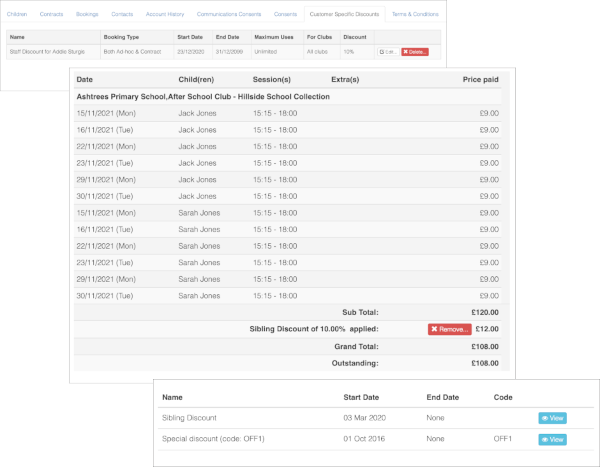 Discounts
Multiple types and levels of discount can be set up to suit the way you work.
Sibling discounts
Early booking discounts
Promo/offer codes
Customer specific discounts (great for staff discounts)
---
Terms & conditions and Consents
You need your parents to agree to your terms and conditions of booking and you've probably got some consents for them to choose from. Set these up how you need them. Fully customisable.
Include terms and conditions which parents must agree to
Use specific terms and conditions for locations or clubs where required
Add and customise the consents you need parents to see
View consents for children on the registers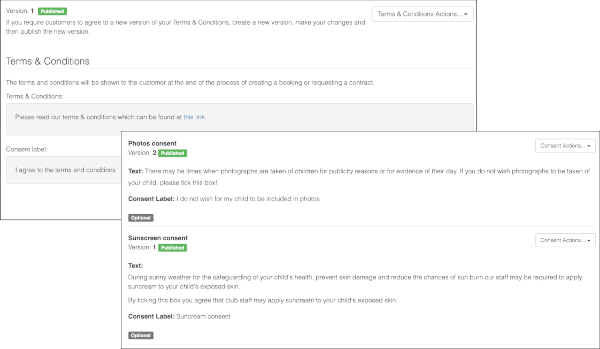 ---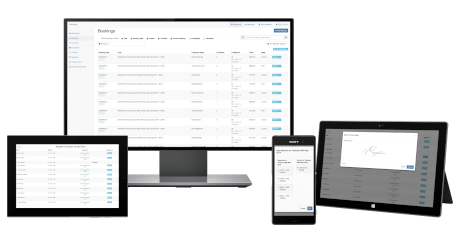 Available 24x7
If you've got access to the internet, you can accss Kids Club HQ.
Online system - 24x7 availability
Parents manage children's details
Branded for your organisations logo
---
Comprehensive administration
There's a load of flexibility so that you can meet the specific needs of your clubs.
Manage locations and clubs
Set maximum spaces for clubs, dates and sessions
Set when bookings close
Flexible session types to suit your clubs
Limit bookings based child's age, year group, etc…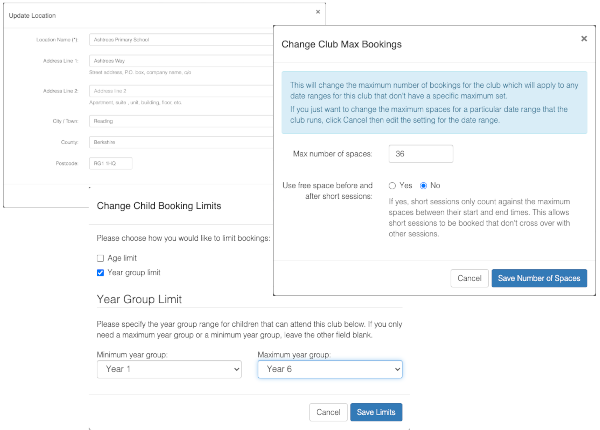 ---
As well as all this, there's loads more in Kid Club HQ to make your life easier. Why not book a demo and see how we can help?