How to set up auto-billing
In Kids Club HQ, you can set up auto-billing and payment reminders, and there are two scenarios for this:
You can set up default auto-billing and payment reminders up for the whole organisation which will apply to all clubs within your organisation that accept contracts or, 
You can set up default auto-billing for individual clubs, for example if a certain clubs reminders/bills need to be sent out on a different day than all others. 
This guide will talk you through setting these up.
To set up auto-billing for the whole organisation:
Once signed in to your dashboard, you should head to the Administration section. Once in this section, click to view the Auto-Billing & Reminders menu item in the left side-bar and you'll be taken to a page where you can set this up.

Here you can view the default settings and any Club Specific Settings. The default settings apply to all of your clubs unless you override them by setting club specific settings.
To edit the default settings, click the Edit button to the right of the entry under Default Auto-billing Settings.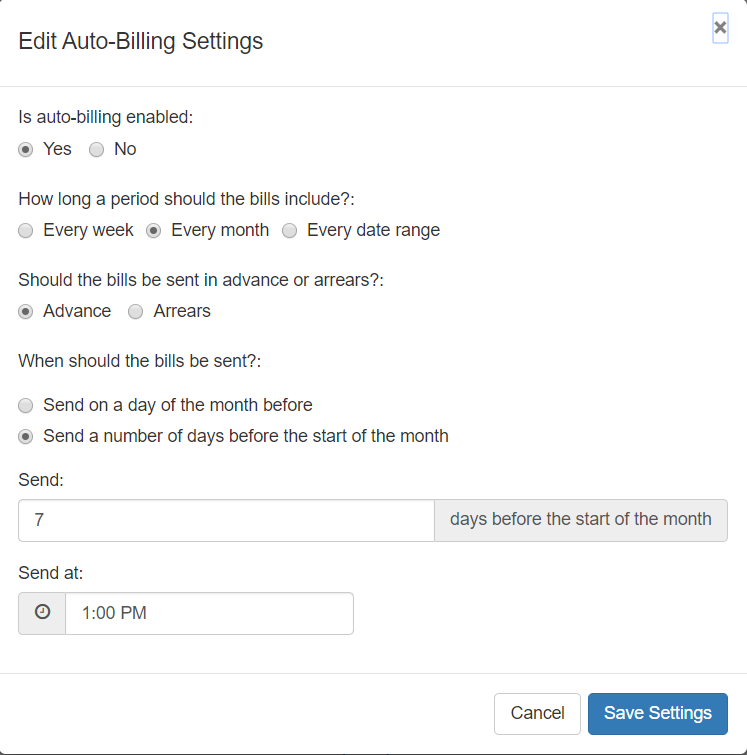 Here you can disable/enable auto-billing, confirm how long of a period each bill should include, confirm whether the bills should be sent in advance or arrears and finally confirm the date and time when bills should be sent. 
Please note: if you choose for the bills to be sent on a particular day of the month, you should only set this to days of the month up to 28th - if you select the 30th or 31st of the month, there will not be any bills sent in February.
To set up club specific auto-billing and/or reminders:
You'll need to do this from the club view. In the Administration view in the system, you'll need to click the Clubs menu item to view all clubs in your organisation. Locate the club which you need to amend and click to View it.
Once viewing the club, to set up specific reminders click the Payment Reminder Settings menu item along the top.

To set up specific auto-billing settings for the club, you'll need to click the Billing & Payment menu item along the top. In this view, you'll need to click the Auto-Billing menu item (shown in the screenshot below). In here, you'll be able to view any current settings and edit these. Again, you'll be able to confirm when the invoices should be sent for this club, if they should be sent in arrears or advance and how long a period should the bills include.