Cut the admin, stop the stress.
See how your club could run smoothly with Kids Club HQ.
The school breakfast club regulations can be a little ambiguous. Nevertheless, if you are running a kids' club, you need to ensure you do your research to ensure you are operating within the law and under the Ofsted rules.
At Kids Club HQ, we have compiled a few areas you need to consider when navigating the regulations of running a childcare business.
What Counts as a Breakfast Club?
A school breakfast club will take children before school to provide childcare when parents need to organise an early drop-off.
Typically, a school breakfast club will occur within the children's school, but they may also run in nearby buildings or on the school grounds. The staff will provide childcare until they can safely drop the children in their classrooms to begin their school day.
However, as you can probably guess, there is also one more distinguishing factor. These clubs provide breakfast to the children so they can fuel up before a busy day at school. Therefore, there are some extra regulations in place regarding food and drink.
School Breakfast Club Regulations
Adequate Staff Training
Although there are no strict regulations for running a breakfast club, you are expected to provide staff or hire staff with appropriate early years childcare qualifications.
In this section, we will discuss some of the training programs your staff should have completed before they work with the children.
Safeguarding
One major qualification you must ensure all staff hold is the Safeguarding Children Level 2 certificate. Safeguarding keeps children safe, and the qualification may help staff notice early signs of a child experiencing a difficult home life.
Food Training
As mentioned, a breakfast club provides each child with the opportunity to have a healthy, nutritious meal before school. Therefore, there are some regulations surrounding this aspect of running a breakfast club.
All staff need to achieve their Level 2 certificate in food hygiene and safety. This helps everyone understand the rules of preparing food for the children in care and can help prevent accidents involving allergies occurring on-site, which could be very dangerous for the child.
There are additional resources on the Gov website, including information about the current expected standards for school food, which you may find useful in your further reading.
If you are concerned about keeping track of each child's allergies or food intolerances, Kids Club HQ has a great solution.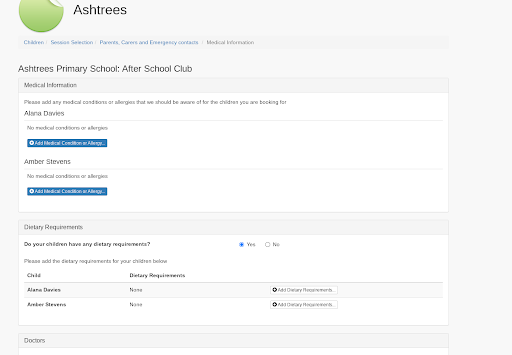 With our admin software, you can store data about the kids' dietary requirements and access this at any time in just a few clicks. The system makes it easier for you to store this information, new staff members can frequently freshen up on this information and parents can update you of any changes through the Kids Club HQ parent portal.
DBS Checks
As well as appropriate early years qualifications, all adults who work with the kids need to have an up to date DBS check. This government document allows all criminal records to be checked to assess whether a person is fit to work with children.
They only cost £23 so they are a minimal expense but they are mandatory when working with children.
GDPR
As of May 2018, your breakfast club needs to follow the GDPR regulations. This involves keeping any records of personal data secure and using passwords to protect online information. You may also need to look at the type of data you collect and how you use it.
For a more in-depth look at how to work under the GDRP obligations, read our previous article 'GDPR for out of school clubs'.
Ofsted Requirements for Kids Breakfast Clubs
Ofsted requires all care providers to meet certain requirements to run a children's breakfast club. You can discover more about the Ofsted requirements in the article 'After School Club Legal Requirements & Early Years Qualifications'.
What Does the Law Say About Providing Food at a Breakfast Club?
Although there are no firm regulations about which foods can be provided at a kids' breakfast club. Staff should ensure that the children receive nutritionally balanced meals.
Here are some ideas of foods you can provide to meet these criteria:
Eggs
Bagels
Toast
Baked beans
Avocado
Fruit
Yoghurt
What about breakfast cereals?
You may be questioning whether breakfast cereals have been accidentally missed off this list. Although cereal is a household favourite breakfast food, cereal is often high in sugar and provides minimal nutrition.
Porridge with fruit is a good alternative to cereal as it can help sustain the children's energy and provide a good source of carbs, protein and fibre.
Catering for allergies
As mentioned, sufficient knowledge of food safety is imperative in a children's breakfast club. And it goes without saying that providing alternative food for children with allergies is important to ensure their needs are met. For example, you may wish to provide gluten-free bread or dairy-free milk. It may also be worth eliminating some foods, such as nuts, for kids with severe allergies.
Why Are These Regulations so Important?
Having regulations keeps the children in your care safe. Additionally, these laws and regulations help keep you and your staff safe.
If you don't stick to the school breakfast club regulations, you risk failing an Ofsted inspection and could even lose your childcare registration.
It's also worth noting that keeping to these rules can help parents trust your care services and may lead them to recommend the program to other parents and guardians.
Kids Receiving Free school meals
Depending on the school where you run the club, you may also be caring for vulnerable children or children in poverty who rely on your breakfast club to receive an adequate meal in the morning.
An article published by Statista estimates the number of students who need free school meals in England rose from 1.44 million in 2020 to a staggering 1.74 million in 2021. Making it more likely than ever that children in your care are relying on your breakfast school club to receive enough food for the day.
Want Some More Help Running Your Breakfast Club?
As you can see there are some school breakfast club regulations you need to stick to when running a kids' club. However, these rules are a little ambiguous in places, so it's always worth doing your research or consulting with other breakfast club managers in your area to see what they recommend.
Although we can only offer a basic understanding of these kid's club regulations, we can help you with your admin work! Our software can help you keep track of the kids' allergies, handle payments, accept bookings and more. If you still aren't sure, we invite you to join one of our upcoming live demos so you can see if the software would benefit your breakfast club.