Affordable kids' activity booking software
Less time on admin, more time for your kids
Discover how our affordable kids' activity booking software can help you run your business with various pricing packages to suit your needs
Parent approved system
With our activity booking software, parents can book their children into your care, pay their bills, and pass over information about their children's needs in one place.

Automatic invoices
After you set the contract in place, Kids Club HQ can automatically organise the bills and send invoices to parents.
Cut down your workload
Our system lets you spend less time on admin. Just imagine being able to open your emails and not see 72 unread messages from parents asking why their phone call wasn't returned or if Amelia can stay an extra hour later on Wednesdays.

Keep track of important information
Using the Kids Club HQ portal, parents can add information about their children online whenever is convenient for them for you to access when required at the click of a button.
User-friendly system for everyone
As a dad, I couldn't help but feel frustrated by the forms I had to fill out to sign up for my daughter's clubs. That's when the idea for Kids Club HQ was born, and we developed an easy-to-use system that helps parents and activity-based business owners unite.
Our system handles all of this, so you don't have to:
Automated invoicing and overdue payment reminders, so you don't feel like you are constantly nagging parents.
Parents can book ad-hoc sessions online. Meaning you can take bookings even when you cannot get to the phone.
Organise spaces for kids who attend your activity centre regularly, so you always have availability for the customers who make up the bulk of your business.
Parents can add dietary and medical information on the system for you to access at a moments notice to our affordable kids' activity booking software. This is great when you train new staff and need them to have easy access to each child's needs and special considerations.
Effortlessly set up discounts for parents who book using promotional offers or bring along multiple children to your care. Get all of these benefits and save time on your customer service when you keep the parents happy, giving you more time to invest in the little ones in your care or spend time with your own growing family.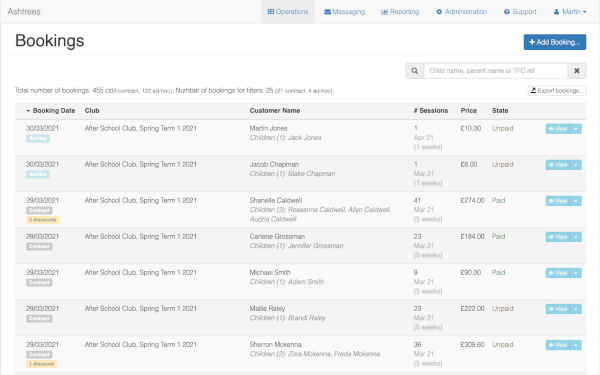 ---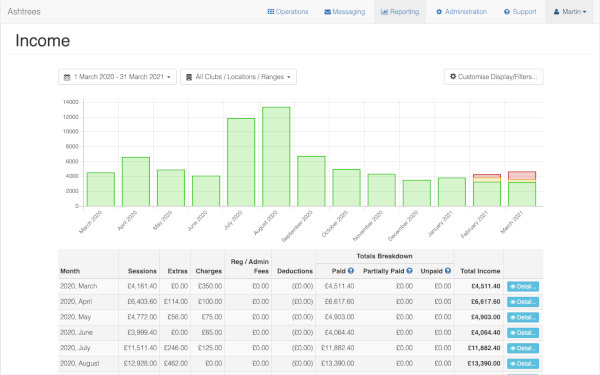 Income reports
If you love the day to day running of your kids' activity club but dread the financial side of running a business, Kids Club HQ offers a service where we can track and report your monthly income.
Income reports are generated automatically at a fraction of the cost.
Reports help you with accounting and setting revenue targets.
A visual way to view your data and compare the records for your different locations.
---
Affordable
As well as helping you manage your business finances, we consciously keep our subscription costs low. Ever wondered why finding the exact price for other software systems that help with kids' activity businesses seems like trying to find a needle in a haystack? Unfortunately, that usually means they keep you in the dark and plan to add on sneaky additional costs or add-ons that will increase your premium. Staying true to the values we hold at Kids Club HQ, we believe in:
Honesty.
Moral integrity.
No hidden costs.
No hard sell experiences after you try our product.
We want you to genuinely love the user experience and enjoy using the system to manage your business. And we want you to be able to do this at a rate that makes sense for everyone. That's why we are honest about our fees and have included an easy to navigate price slider on our site so you can check what your costs are likely to be before you even sign up.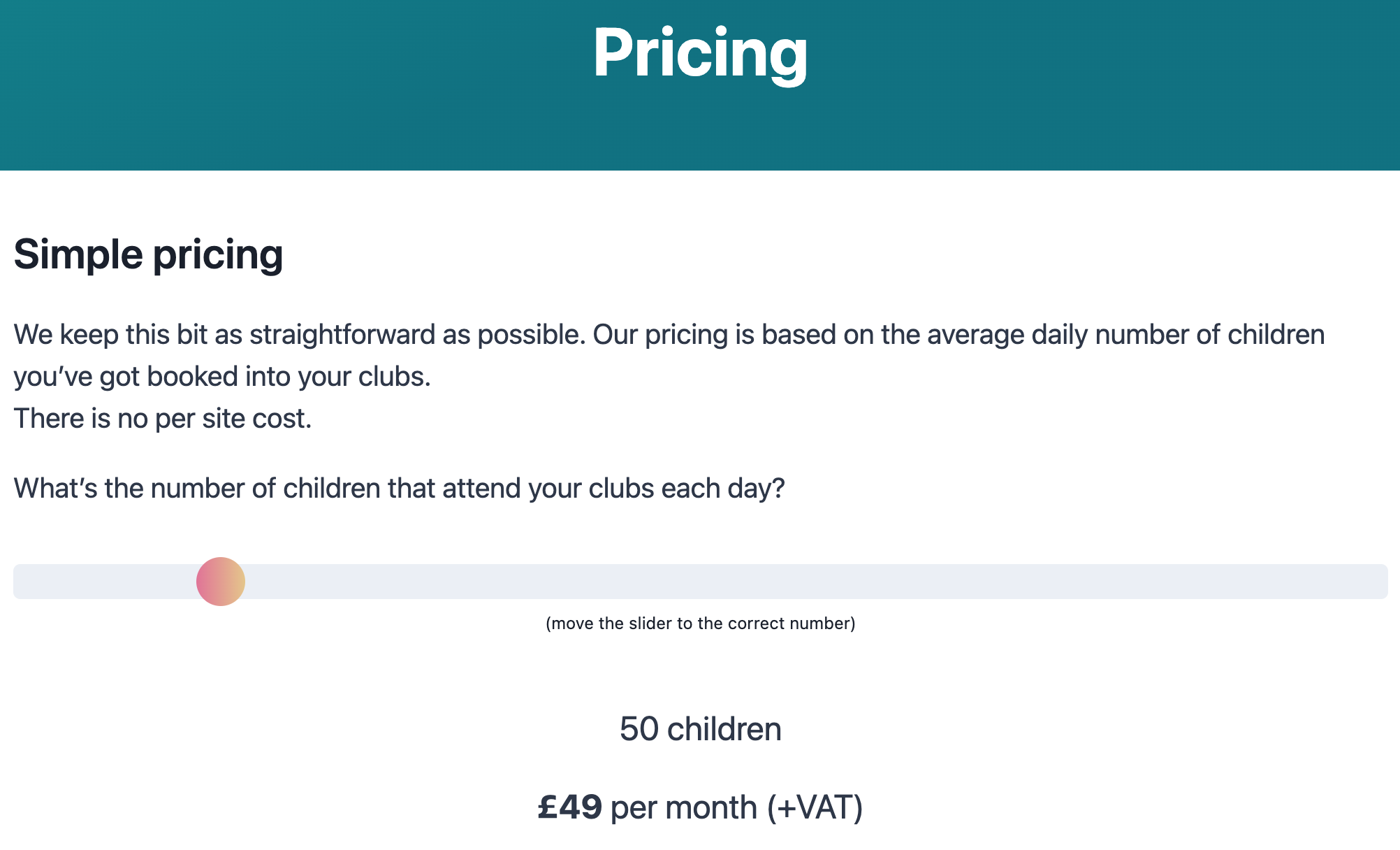 ---
Book a demo
Book a demo of Kids Club HQ today and see how the system works for you.
No obligation to continue after this trial period is complete if you would rather go back to the way things were.
Try our system for a week.
Evaluate.
Sign up for a flexible monthly subscription.
---
What do our customers say about Kids Club HQ?
Michael Vinulan from FACE Holiday Club says that he was 'worried about how much [the] system would cost and whether it would do what [he] needed it to do'. However, once he tried our system, he realised that Kids Club HQ worked with his existing practices and allowed his business to run smoothly without costing him the earth in the process. Michael is thrilled with the result and shared with us that Kids Club HQ 'dramatically cut the time we spend on admin and our parents find it much easier to book with us'.
How much does it cost to get started using Kids Club HQ?
How we calculate your bill:
Your unique bill is calculated depending on the average number of children you host per day.
You will be billed monthly for the use of the system that allows you to run your business with ease.
There are no hidden costs or end of the month surprise bills.
You pay according to how large your business is, and THAT'S IT.
Use our easy to use pricing calculator to work out a rough cost for your kids' activity club in seconds.
Ready to hand over your laborious admin tasks? Register for a demo today and see how much time you can save.