Filtering The Customers List
There are a number of options available for filtering the customers list to find the customers you are interested in.
Search For Customer of Child
You can use the search box to search for a customer or a child of a customer. The matching results are shown below the search box and you can click on the appropriate result to load that customer in the customer list.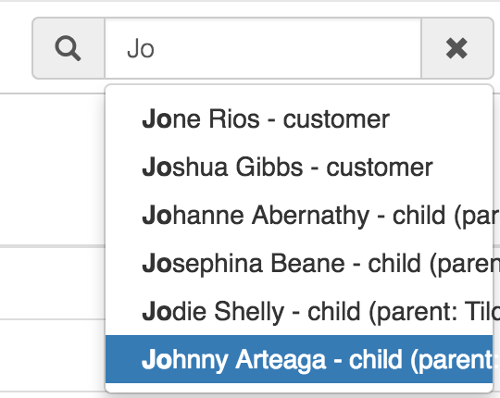 Filter By Club
The clubs filter allows you to select one or more clubs and, once you apply the filter, this will show customers that have made one or more bookings at those clubs.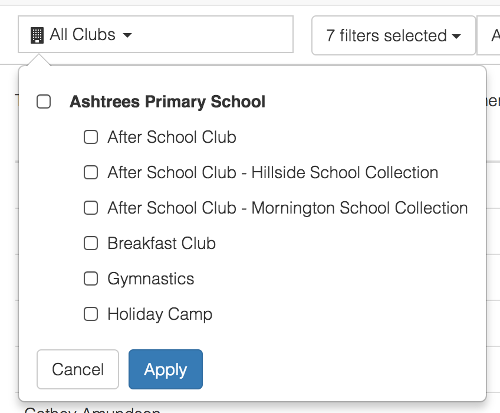 Additional View Filters
In addition to the club and customer/child filters, there are a number of other options which you can filler on. These are included in the view filter drop-down: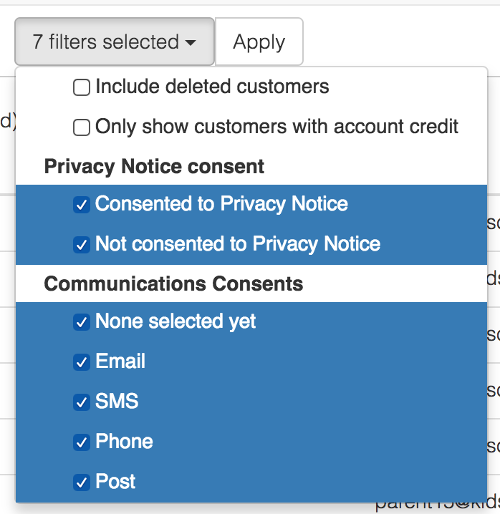 Include deleted customers
This allows you to include deleted customers in the view.
Please Note: this doen't include customers that have been fully deleted form the system due to a 'right to erasure' request.
Only show customers with account credit
As the name suggest, this will limit the view to only include customers with account credit.
Privacy Notice options
There are 2 options for this filter which allows you to view customers that have and those that haven't positively consented to your Privacy Notice.
If you haven't set up a Privacy Notice, these filters are not available.
Communications consents
These options allow you to filter the list based on customers that have agreed to be contacted by the different comunications methods that you set up communications consents for.
You can also choose the filter option None selected yet which will include those customers that have not yet selected the communications consents.
If you haven't set up communications consents, these filters are not available.